Bloggers 1st Amendment Pledge
I urge every blogger to consider making the following pledge.
Blogger's 1st Amendment Pledge
If the FEC makes rules that limit my First Amendment right to express my opinion on core political issues,
I will not obey those rules.
I came across this when surfing in blog explosion. It was posted on a blog called Ogre's Politics & Views so a big hat tip to Ogre.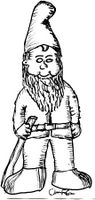 So the gnome is on a world tour. Feel free to grab him and post him on your blog, but be sure to trackback your post (to http://blog.mu.nu/cgi/mt-tb.cgi/71993) so Chuck can see where his gnome has been while he's been gone!
Petition for Social Security Reform
Facts On The Fair Tax